What's included?

• Angle Razor made from the highest quality aluminium

• Aluminium Stand with silicon anti-slip foot

• Cast aluminium bowl with handle and brush drying holder

• Milled aluminum shaving brush with super-soft shaving bristles

• Instruction card with foil detailing

• Presentation box with minimalist branding (x2)
Additional Product Information

The Angle Razor:

Unleash the power of the Angle Razor, an innovative shaving tool designed to revolutionize your grooming routine. Crafted with meticulous attention to detail, this razor delivers unparalleled precision and performance. Its ergonomic design fits perfectly in your hand, providing a firm grip and effortless control. The precisely engineered blade angle ensures a close and comfortable shave, leaving your skin irresistibly smooth and rejuvenated. With the Angle Razor in your hands, you hold the key to mastering the art of shaving.

The Brush & Bowl:

Complementing the Angle Razor is the Brush & Bowl set, an exquisite combination of minimalist elegance and exceptional functionality. The aluminum shaving brush features a cruelty-free knot, offering luxurious lathering and superior water retention. Its ergonomic handle ensures comfort and control during each stroke, while the Brush & Bowl set includes a cast aluminum bowl designed for effortless lather production. With its anti-slip foot, the bowl stays securely in place, adding convenience and safety to your shaving ritual. Elevate your lathering experience to new heights with the Brush & Bowl, preparing your skin for the perfect shave.

A Perfect Duo:

The Angle Razor and Brush & Bowl were made for each other, perfectly complementing one another in both form and function. Their minimalist aesthetics and superior craftsmanship create a visual harmony that is a delight to behold. Together, they transform your daily grooming routine into a moment of pure indulgence, where precision meets elegance, and simplicity meets sublime shaving.

The Gift of Exceptional Shaving:

The Angle Razor and Brush & Bowl Gift Set is the ideal gift for the discerning gentleman who appreciates the finer things in life. Delight a loved one or treat yourself to a shaving experience that goes beyond the ordinary. This gift set embodies the perfect fusion of luxurious design, meticulous craftsmanship, and outstanding performance. It's a thoughtful gesture that will be cherished, offering the gift of exceptional shaving for years to come.
Warranty and Returns

• Try your Angle product risk free. We're so confident you'll be delighted with it, we give you 30 days to make sure it's right for you. That's the Angle performance guarantee.

• Returns are simple, just get in touch and via info@anglerazor.com and we'll do our best to help. Further info can be found in our Shipping, Returns and Refunds Policy.
Reviews

(0)
The Perfect Combination of Precision and Elegance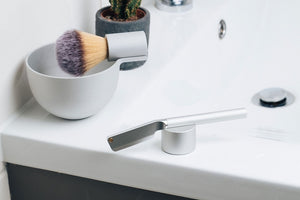 Experience the ultimate shaving indulgence with the Angle Razor and Brush & Bowl Gift Set, a harmonious pairing of two exceptional grooming essentials. Immerse yourself in a world of precision, style, and sophistication as you embark on a shaving ritual like no other. This thoughtfully curated gift set combines the innovative Angle Razor with the luxurious Brush & Bowl, offering an unrivaled shaving experience that exceeds expectations.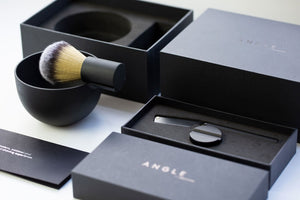 Embrace the art of shaving perfection with the Angle Razor and Brush & Bowl Gift Set. Elevate your grooming routine to new heights of sophistication and precision. From the moment you unwrap this gift set, you'll feel the passion and dedication poured into every detail.