What's included?

• Waxed cotton roll case with soft-touch interior and PU leather strap
Additional Product Information

Travel in Confidence:

Traveling with your Angle Razor has never been easier or more convenient. The Angle Razor Roll Case provides a dedicated and protective space to store your razor, ensuring it stays safe and secure throughout your journey. Whether you're headed across the country or around the globe, this roll case offers peace of mind, allowing you to focus on enjoying your travels.

Premium Waxed Cotton:

Crafted from high-quality waxed cotton, the Angle Razor Roll Case exudes sophistication while offering reliable protection for your razor. The waxed cotton material provides excellent durability, shielding your Angle Razor from bumps, scratches, and the elements. With each use, the roll case develops a unique patina that adds character and charm, reflecting your adventurous spirit.

Soft-Touch Interior:

The interior of the Angle Razor Roll Case is designed with a soft-touch lining, ensuring a gentle and cushioned environment for your razor. The plush interior not only protects your razor from potential damage but also adds an extra touch of luxury to your travel experience. Rest assured that your Angle Razor will be nestled in comfort wherever your journey takes you.

Secure and Stylish:

The Angle Razor Roll Case features a PU leather strap with a secure snap closure, keeping your razor firmly in place while providing quick and easy access. The black-on-black Angle logo adds a subtle and sophisticated touch, embodying the timeless elegance of the Angle Razor brand. Travel with confidence, knowing your razor is both secure and stylishly presented.

Travel-Ready Convenience:

Designed with travel convenience in mind, the Angle Razor Roll Case is compact and lightweight, easily fitting into your travel bag or suitcase. Its roll-up design allows for efficient storage, minimizing space while maximizing protection. Take your Angle Razor with you wherever you go, and ensure you're always prepared for a smooth and precise shave.

Elevate Your Travel Experience:

Enhance your grooming routine even on the go with the Angle Razor Roll Case. Experience the perfect combination of functionality and style as you protect your Angle Razor in this sophisticated waxed cotton roll case. Embrace the freedom to explore while keeping your shaving essentials safe and organized.
Warranty and Returns

• Try your Angle product risk free. We're so confident you'll be delighted with it, we give you 30 days to make sure it's right for you. That's the Angle performance guarantee.

• Returns are simple, just get in touch and via info@anglerazor.com and we'll do our best to help. Further info can be found in our Shipping, Returns and Refunds Policy.
Reviews

(0)
Travel in Style and Protect Your Angle Razor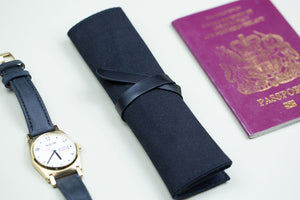 Elevate your travel experience with the Angle Razor Roll Case, a sleek and functional accessory designed to store and safeguard your Angle Razor on the go. Crafted from premium waxed cotton, this roll case offers both durability and style, making it the perfect companion for jet setters and adventurers alike.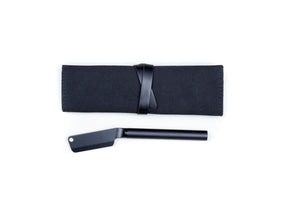 With its soft-touch interior, secure strap, and subtle black-on-black Angle logo, this roll case is the epitome of travel elegance. Unleash the adventurer within and enjoy the convenience and elegance of this travel companion.