What's included?

• Allbody Razor made from the highest quality aluminum

• "Look Sharp" Recycling Tin

• 1 x All-Natural Vegan Shaving Soap

• 5 x Professional Double edge blades with zero plastic packaging

• Instruction, tips and tricks card
Additional Product Information

The Allbody Razor:

Unleash the power of the Allbody Razor, a beautifully designed shaving tool that sets a new standard for grooming. Its minimalistic and ergonomic design fits comfortably in your hand, providing exceptional control and maneuverability. Crafted with utmost precision, the Allbody Razor delivers a close and smooth shave, leaving your skin irresistibly soft and refreshed. Experience the perfect balance of elegance and performance with the Allbody Razor.

Barber Grade Shaving Soap:

Enhance your shaving ritual with the Barber Grade Shaving Soap, a handcrafted masterpiece from the UK. This natural shaving soap bar is carefully formulated with nourishing ingredients such as castor oil, kaolin clay, and aloe vera. These elements work harmoniously to soothe and nourish your skin, preparing it for a close and comfortable shave. The cruelty-free and vegan-friendly formula ensures that your grooming routine is ethical and sustainable. Combine the shaving soap with hot water, a brush, and a bowl to create a luxurious lather that pampers your skin with every stroke.

5 x Professional Blades:

Complete your shaving arsenal with a selection of 5 x professional blades, ensuring you have a steady supply of precision-cutting edges for your grooming needs. These high-quality blades are designed for professional use, delivering optimal sharpness and durability. Each blade is crafted with meticulous attention to detail, guaranteeing a smooth and efficient shaving experience. With this selection of professional blades at your disposal, you can enjoy the convenience of a consistently clean and precise shave.

The Gift of Superior Shaving:

Surprise a loved one or indulge yourself with the Allbody Razor, Barber Grade Shaving Soap, and 5 x Professional Blades Gift Set. This thoughtfully curated collection embodies the perfect fusion of performance, luxury, and sustainability. From the moment you unwrap this gift set, you'll appreciate the craftsmanship and dedication that went into creating these exceptional products.
Warranty and Returns

• Try your Angle product risk free. We're so confident you'll be delighted with it, we give you 30 days to make sure it's right for you. That's the Angle performance guarantee.

• Returns are simple, just get in touch and via info@anglerazor.com and we'll do our best to help. Further info can be found in our Shipping, Returns and Refunds Policy.
Reviews

(0)
Unleash the Ultimate Shaving Experience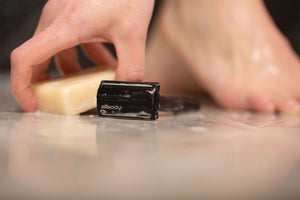 Experience the pinnacle of grooming excellence with the Allbody Razor, Barber Grade Shaving Soap, and 25 x Professional Blades Gift Set. This meticulously curated collection combines the innovative Allbody Razor, a handcrafted shaving soap, and a selection of professional blades.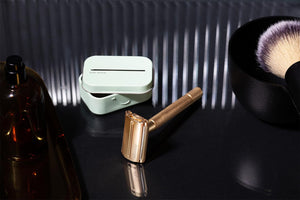 With this comprehensive set, you can enjoy a superior shaving experience that exudes precision, luxury, and care. Immerse yourself in a world of precision, luxury, and care. Experience the transformative power of this extraordinary gift set and enjoy the smoothest, most indulgent shave of your life.