What's included?

• Allbody Razor made from the highest quality aluminium

• Cast aluminum bowl with handle and brush drying holder

• Milled aluminum shaving brush with super-soft shaving bristles

• "Look Sharp" Recycling Tin

• Instruction, tips and tricks card

• Presentation box with minimalist branding
Additional Product Information

The Allbody Razor:

Discover the art of flawless grooming with the Allbody Razor, a beautifully designed tool that transcends the ordinary. With its minimalist aesthetics and meticulous craftsmanship, this razor redefines precision shaving. Its sleek and ergonomic handle fits perfectly in your hand, providing a comfortable grip and complete control. The precisely engineered head ensures a close, irritation-free shave, leaving your skin irresistibly smooth and refreshed. Experience the ultimate in shaving performance with the Allbody Razor.

The Brush & Bowl:

Complementing the Allbody Razor is the Brush & Bowl set, a luxurious pairing of functional elegance. Embrace the art of lathering with the premium synthetic fiber brush, delivering a pampering experience with its superior water retention and soft, cruelty-free bristles. The cast aluminum bowl, with its anti-slip foot, provides stability and convenience, making lathering effortless and enjoyable. Elevate your shaving ritual with the Brush & Bowl set, transforming the mundane into a moment of pure indulgence.

A Match Made in Shaving Heaven:

The Allbody Razor and Brush & Bowl were meant to be together. Their shared commitment to exceptional quality and design creates a seamless and harmonious grooming experience. As you wield the Allbody Razor, the luxurious lather from the Brush & Bowl embraces your skin, setting the stage for a shave that transcends expectations. Together, they form a duo that brings precision, luxury, and artistry to your daily grooming routine.

The Gift of Unparalleled Shaving:

The Allbody Razor and Brush & Bowl Gift Set is the ultimate gift for the discerning gentleman who values a superior grooming experience. It is a testament to exceptional craftsmanship, exquisite design, and unwavering performance. Surprise a loved one or indulge yourself with this extraordinary gift set that encapsulates the essence of luxury shaving. Each element has been carefully curated to create a truly remarkable experience, ensuring that every shave becomes a moment of indulgence and self-care.
Warranty and Returns

• Try your Angle product risk free. We're so confident you'll be delighted with it, we give you 30 days to make sure it's right for you. That's the Angle performance guarantee.

• Returns are simple, just get in touch and via info@anglerazor.com and we'll do our best to help. Further info can be found in our Shipping, Returns and Refunds Policy.
Reviews

(0)
Unleash Your Grooming Potential with Ultimate Precision and Luxury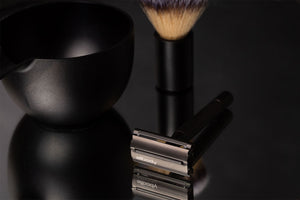 Experience the epitome of shaving excellence with the Allbody Razor and Brush & Bowl Gift Set, a meticulously curated collection that combines the exceptional Allbody Razor with the luxurious Brush & Bowl set. This thoughtfully crafted gift set embodies the perfect harmony of precision, elegance, and indulgence, elevating your shaving experience to new heights.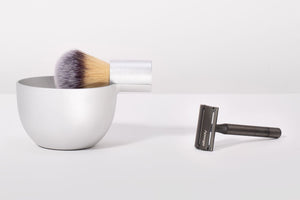 Unleash your grooming potential with the Allbody Razor and Brush & Bowl Gift Set. From the moment you unwrap this luxurious collection, you'll feel the passion and dedication that went into crafting these extraordinary tools. Elevate your shaving routine to a realm of precision, elegance, and indulgence.